Just Between Friends Spring Sale at Champions Hall in Eden Prairie, MN May 5-7, 2022
Just Between Friends Eden Prairie is a locally owned consignment sales event held twice a year in the spring and fall. You can find EVERYTHING for babies through teens! Children's & Maternity Clothing, Baby Equipment, Games, Puzzles, Books, Sporting Goods, Kids Room Décor and TOYS, TOYS, TOYS! Sell your gently used items at prices YOU decide, then shop the sale to re-stock your child's closet and toy box!
Wednesday, May 4, 2022 - PRESALE DAY (Ticket is required)
Thursday, May 5, 2022 - 10AM - 7PM - $2 Admission, Kids are Free - Show the image below and receive FREE admission.
Friday, May 6, 2022 - 10AM - 7PM - Free Admission
Saturday, May 7, 2022 - 10AM - 5PM - Free Admission - Saturday is half-price day. Many items are an additional 50% off. Get in an hour early with a Presale Ticket.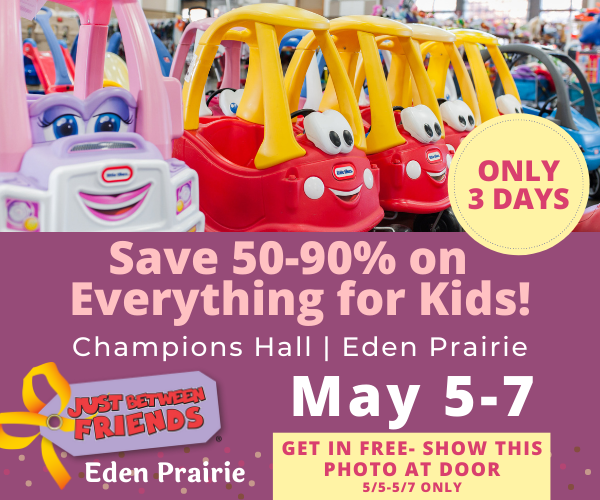 Held at Champions Hall 7000 Washington Ave. S., Eden Prairie, MN 55344
Website edenprairie.jbfsale.com
*As a precaution we ask that you observe Social Distancing and follow the current Minnesota guidelines.
Sell your items with Just Between Friends
JBF Eden Prairie Consignor Drop off is May 2 & May 3 by appointment only. Find out more at edenprairie.jbfsale.com or email with questions.