Children of Tomorrow is an independently owned, family run childcare/preschool center that offers a bright, exciting, clean and caring learning environment for children 6 weeks to 9 years of age.
Children of Tomorrow is committed to working closely with our families to ensure that the special needs of every child are met. Our teachers, assistants and aides offer a close-knit, team approach to childcare that encourages parent involvement. Our management team works closely together to ensure they meet their common goal of making the children their number one priority. Every staff member makes it a point to know each family that is a part of the center.
Children of Tomorrow has been providing childcare to the community since 2000. With four locations in Carver County in Chanhassen, Waconia, Carver and Norwood-Young America. Offering childcare for infants and toddlers, and preschool program for children 3 and older. Drop-in care available at Waconia location.
Children of Tomorrow prepares children to enter the elementary schools ready to learn. Included in the educational plan are Spanish, computer classes, music classes, physical fitness and nutrition. Also, each classroom is equipped with educational toys, books and lessons from the infant room to the preschool rooms.
Programs
Infant
Toddler
Preschool
Afterschool
Drop-In
2022 SUMMER CAMPS
Each summer, Children of Tomorrow converts its programing into one of the most sought-after summer day camps in the area. Members of the summer camp planning team spend months organizing every activity, field trip, game, and community service project in an effort to build memories that will last forever in the minds of our students.
A new theme each summer.
A sub-topic change for every week of the summer.
Weekly field trips.
Science, cooking and creative projects, plus daily learning domains.
A Community Service Project is scheduled each month to teach our students to be responsible neighbors.
Expert guest speakers are brought in to educate students.
Enrollment for our Summer Day Camp is based on availability of space. Typically, our summer day camp runs the second week in June through the last week in August.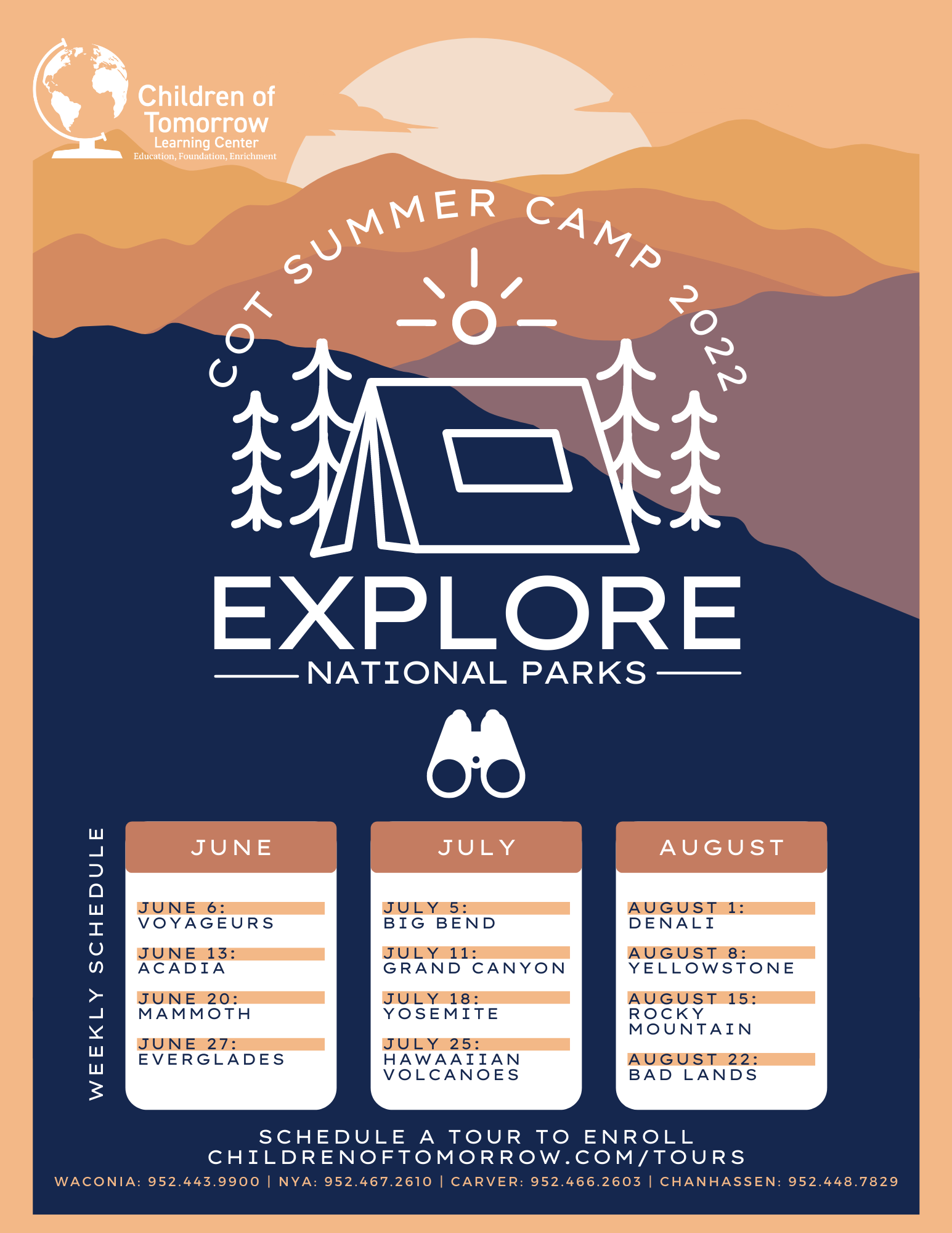 LEARN MORE ABOUT SUMMER CAMP

Locations
1490 Lake Drive West Chanhassen, MN 55317
410 East Tenth Street Waconia, MN 55387
4745 Dahlgreen Road, Carver, MN 55318
316 W Hwy 212 NYA, MN 55368