Dr. Sarah K. Ebeling and the team at Wink will change the way you experience eye care and select eyewear. Offering a personalized experience for each member of your family to meet the visual and style demands of daily life.
It starts with a trusting relationship in a local clinic. They see patients as neighbors and friends and want what's best for you. That's why they continue to educate on the latest in medicine, technology and fashion. Dr. Sarah K. Ebeling, Dr. Katie Schneider and Dr. Katelyn McDevitt work with patients at the Chanhassen location.
Wink Family Eye Care has the newest available refractive technology so you will get the most accurate vision prescription possible. They are able to take "puff-free" eye pressure readings and are proud to be the only office in the Southwest Metro to offer Optomap Digital Retinal Imaging as an alternative to dilation.
You will experience the best medical eye exams from Dr. Sarah, who was trained at the prestigious Illinois College of Optometry in Chicago. She is experienced in treating medical conditions such as dry eye, blepharitis, glaucoma and cataracts and will educate you on how to prevent many of these conditions from happening in the first place. Dr. Sarah is also highly trained and experienced at specialty contact lens fits such as dailies, astigmatism, bifocal, gas perms, corneal reshaping technology and medically necessary contact lens fits.
Does your child's prescription seem to get stronger every time they visit the optometrist or ophthalmologist? Myopia is the medical term for nearsightedness and oftentimes gets worse as a child grows. Wink Family Eye Care has a myopia management program. Treatment options include contacts and drops that slow the progression of myopia in children.
The optical staff is board-certified and on the leading edge of eyewear trends and fashion. They will help you find the best frame for your complexion, bone structure, personality and lifestyle. You will not find many of the frame lines at your everyday optical. Wink Family Eye Care's goal is to provide high-quality and unique glasses at a fair price to make your frame selection process fun, quick and easy.
Bring the kiddos! They have worked hard to ensure EVERYONE in your family feels welcome at Wink. They know parents deserve to look as great as they see but so do our children. Did you know that 80% of learning is visual? Dr. Sarah recommends children have their first eye exam between 6-12 months of age, again at 3, right before kindergarten and once every school year to ensure your child not only sees well but sees without effort. Your child/student will receive a comprehensive exam with a special series of tests to ensure their eyes are not being stressed by the demands of computers, tablets and smart phones. If your child needs glasses, they have one of the widest and most unique selections of youth frames in the Southwest Metro.
Wink Family Eye Care is located at
600 Market Street, Suite 110, Chanhassen, MN 55317
Phone (952) 937-9465 or schedule an appointment online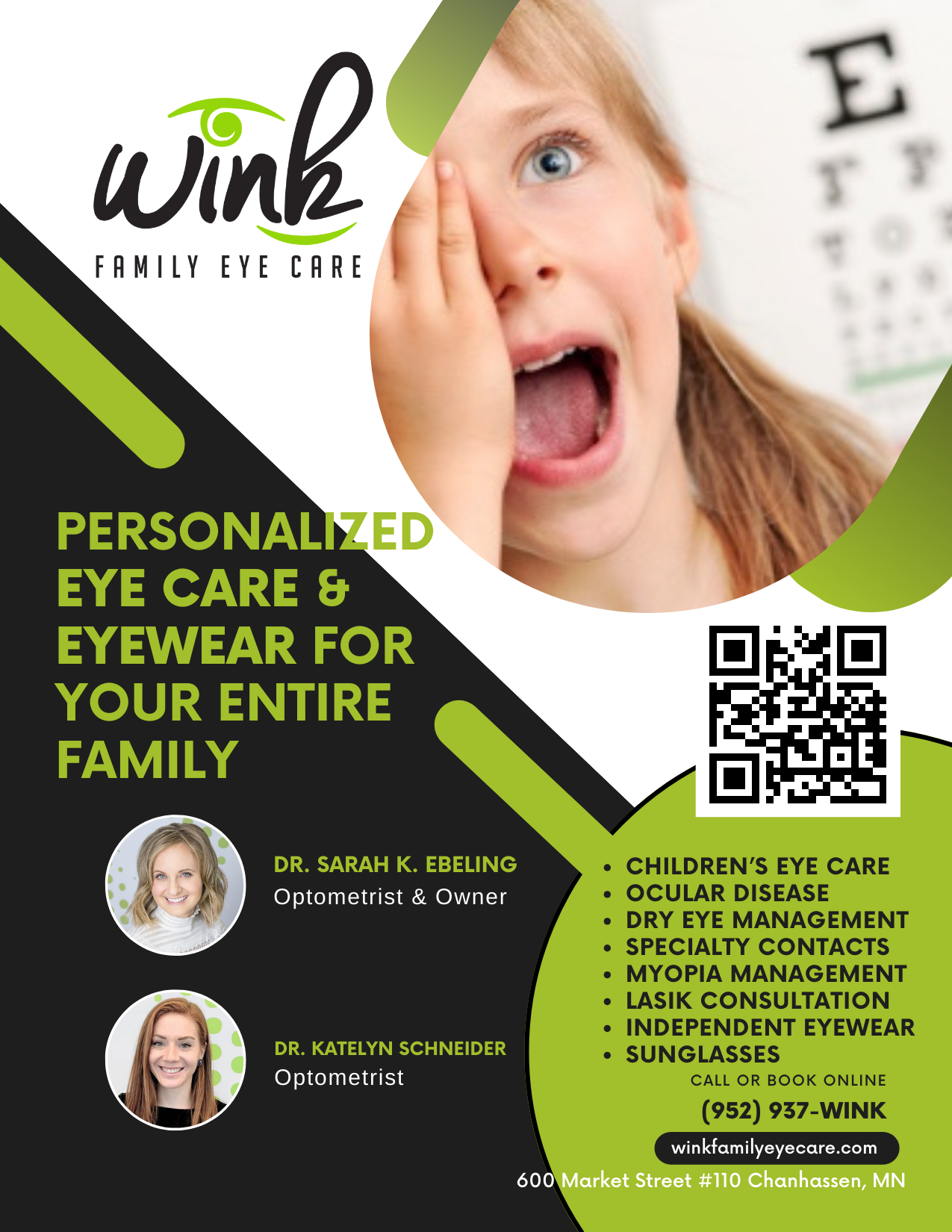 Business Review
Kim: They are WONDERFUL with kids and very quick and fun with the eye exams. She even asked if my daughter needed a wiggle break (but she was having to much fun with the "games") I highly recommend them.
Seth: Dr. Sarah and her staff were fantastic! She was incredibly thorough, explained everything she was doing in detail, walked through all of my test results, and was extremely kind. I would recommend her to everyone, and will be taking my family to see her from here on out. Thanks again Dr. Sarah!!!
Raina: Dr. Sarah was professional, knowledgeable and kind. I had a lot of eye pain and she fit me into her schedule for an emergency visit. And when the pain continued that evening, she met me after hours to provide additional care. She truly cares and I would highly recommend!