The twinkle, colors, flashing and music, we all love to be amazed by the beauty of a wonderful Holiday Light Display. Many this year have made changes due to the pandemic and might be limited or only drive-through. Please check with each venue for an updated guideline for each location.
If you find the info in this article helpful and would like to receive weekly updates about the best family-friendly activities in Carver County and the surrounding communities, CLICK HERE to get a Free Event Calendar!
*All shows are weather permitting
Guide includes FREE and paid Christmas and Holiday Light Show displays near and around Carver County, Minnesota.
HOLIDAY LIGHT SHOW DISPLAYS NEAR CARVER COUNTY
CHRISTMAS IN COLOR
1 Valleyfair Dr, Shakopee, MN 55379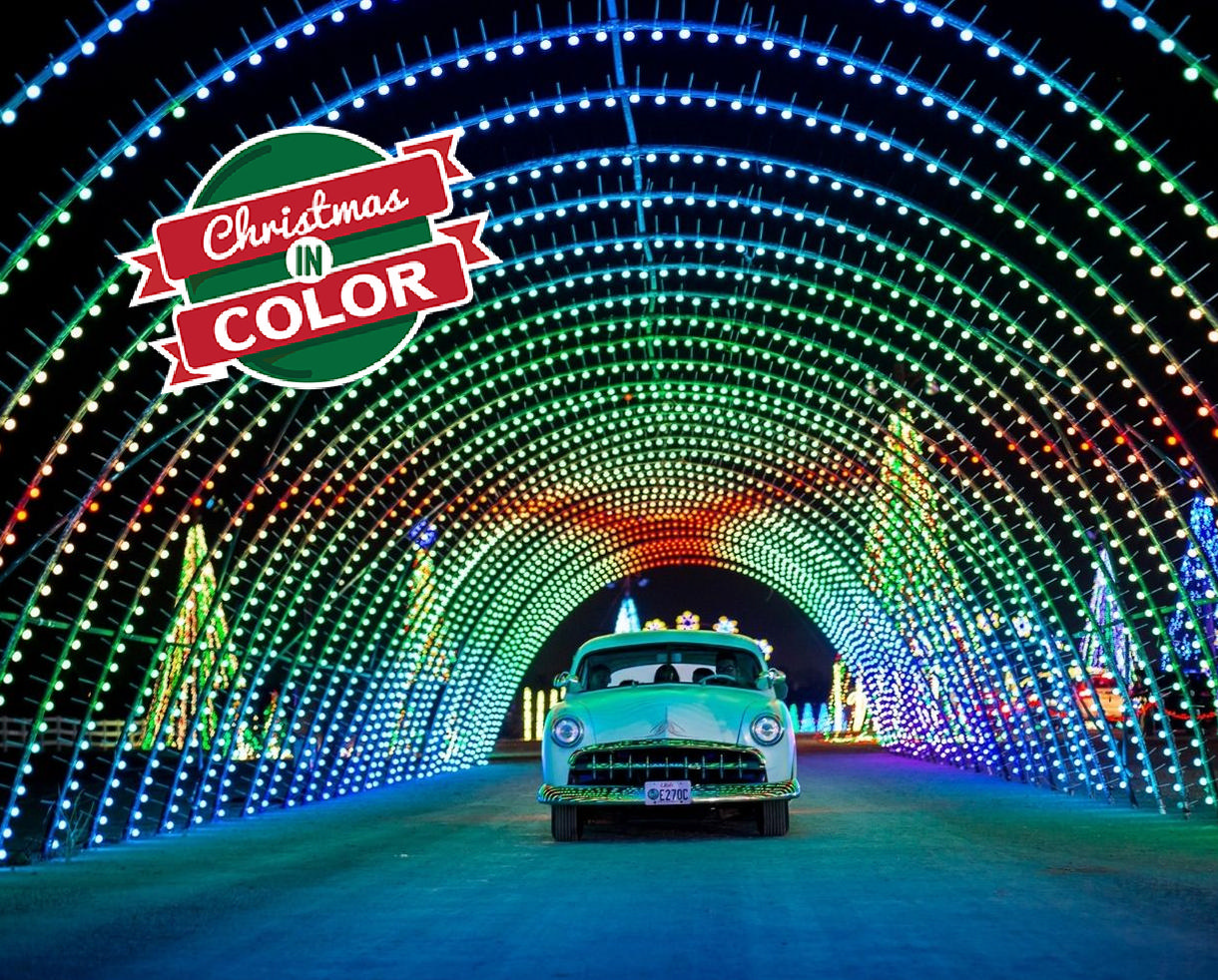 Experience an upbeat, visual and audio drive-through holiday adventure at Christmas in Color, in Shakopee, MN. This immersive, uplifting experience takes the tradition of gazing at Christmas lights through the car window to a whole new level. With millions of lights perfectly synchronized to your favorite holiday tunes, larger-than-life Christmas trees, candy canes and animated snowmen who will serenade you with songs, Christmas in Color is an immersive experience for all ages and abilities!
2020 Christmas in Color Dates/Times:
November 27, 2020 - January 3, 2021
Closed Thanksgiving and Christmas
Drive thru entry times begin every 30 minutes starting at 5:30pm each night.
The last entry time will be at 10pm
$30 per car
SAVE 15% WHEN YOU USE DISCOUNT CODE KID2020
ENTER TO WIN A CAR PASS TO CHRISTMAS IN COLOR

SNOOK FAMILY LIGHTS
1188 Wildwood Way, Chaska, MN 55318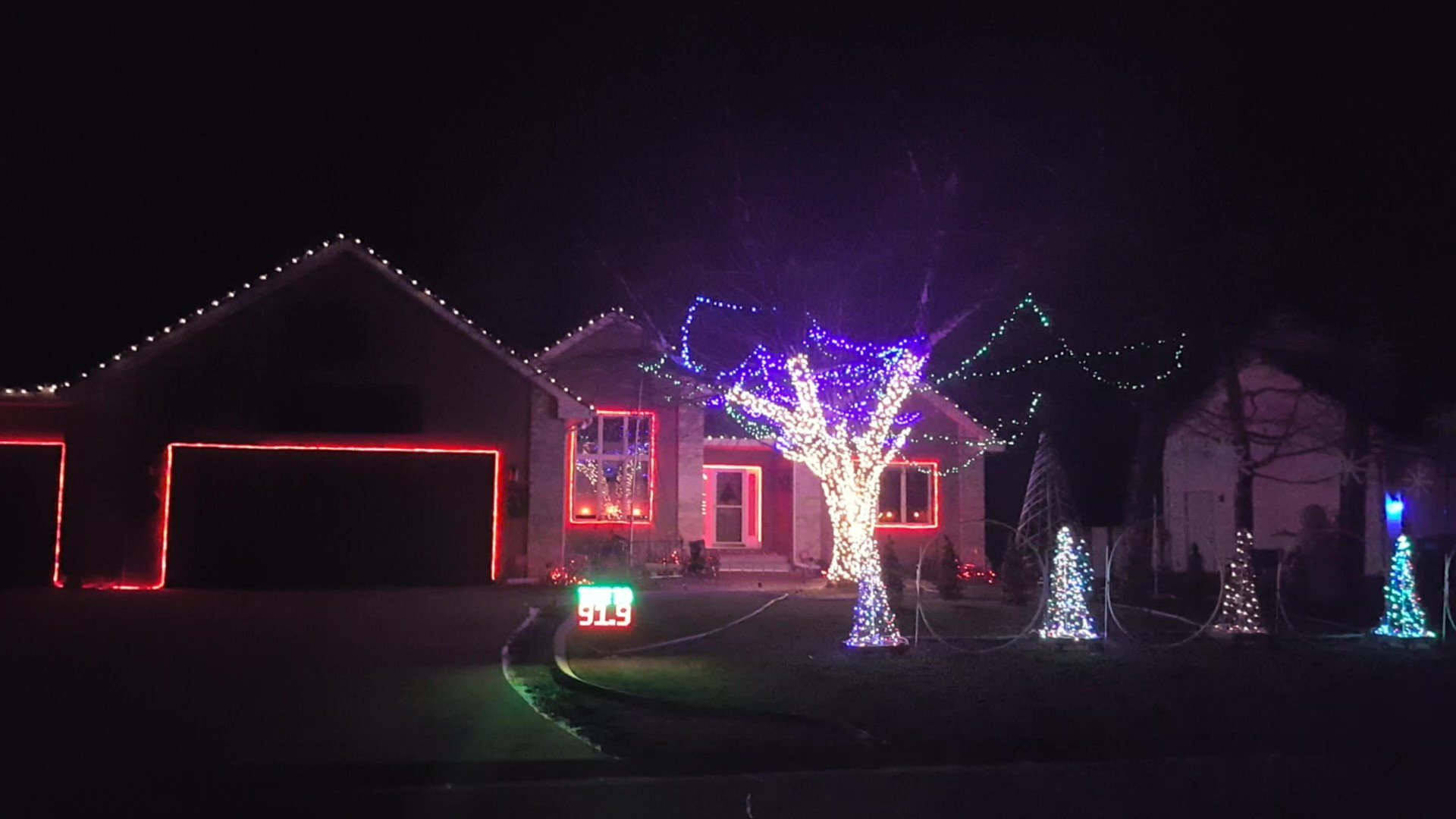 Snook Family Lights is a family-run holiday light show, featuring over 60,000 lights programmed to a wide variety of our favorite holiday music.
2020 Snook Family Lights Dates/Times:
November 28, 2020 - January 5, 2021
Sunday-Thursday 5-10pm
Friday and Saturday 5-11pm
Weather permitting
Park on the side of the street ACROSS from the display so everyone can enjoy the lights.
Do not block the neighbor's driveways.
Turn off your headlights if you're parked.
Tune Radio to 91.9 FM
Please keep the volume at a reasonable level.
Remain in your vehicle, do not walk around display.
FREE to view
Accepting food shelf donations for Bountiful Basket. A collection box is located on the left side of the driveway.

CHRISTMAS ON SAVANNA
4441 Savanna Trail, Chaska, MN 55318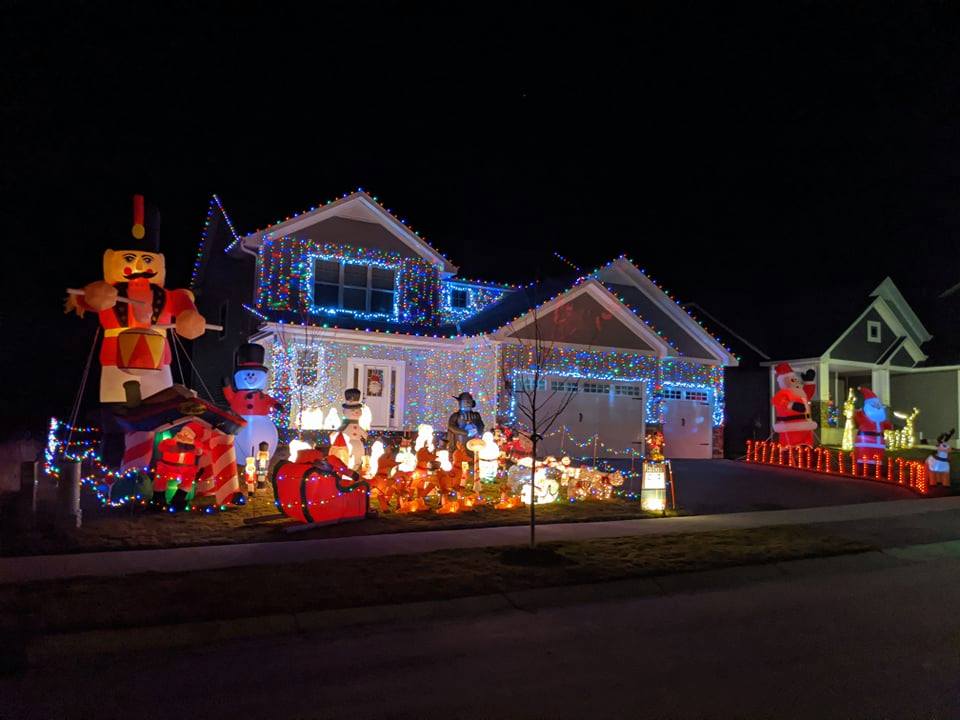 Christmas on Savanna is a Family Holiday Display synced to Christmas Music.
2020 Christmas on Savanna Dates/Times:
November 20, 2020 - December 26, 2020
Nightly from 5:00 - 9:00 PM
Tune Radio to 91.9 FM
FREE to view
Weather permitting
Please don't block driveways and be respectful of neighbors.

WESTWOOD'S CHRISTMAS LIGHTS DRIVE-THRU
Westwood Community Church 3121 Westwood Drive Chanhassen, MN 55331

Westwood's Christmas Lights will feature lighted displays, live animals and more.
2020 Westwood's Christmas Lights, Dates/Times:
December 4-5, 2020 and December 11-12, 2020
Friday-Saturday from 5:30-8:30pm
FREE to view

GLOW HOLIDAY FESTIVAL
THE GREAT HOLIDAY MINNESOTA GET TOGETHER
1265 North Snelling Avenue St. Paul, MN 55108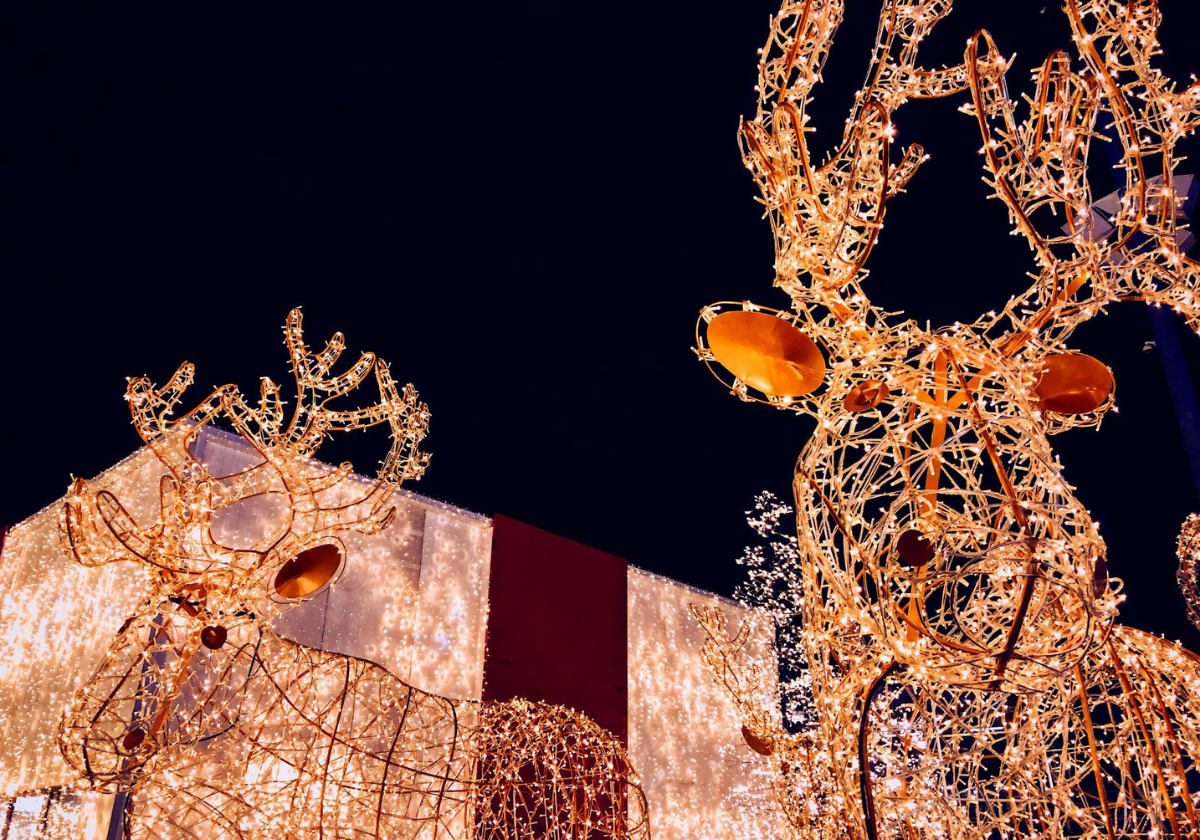 The Great Minnesota Holiday Get-Together is a one mile drive-thru with a dozen stops featuring over a million holiday lights, illuminated trees, icicle and art installations, a festive gingerbread house and more!
2020 GLOW Holiday Festival Dates/Times:
November 19, 2020 - January 3, 2021.
Drive thru entry times begin every 15 minutes starting at 4:30pm each night.
The last entry time will be at 9pm Sun-Thurs, and 10pm Friday and Saturday.
$46 per car plus ticketing fees.

SEVER'S HOLIDAY LIGHTS
3121 150th Street West Shakopee, MN 55379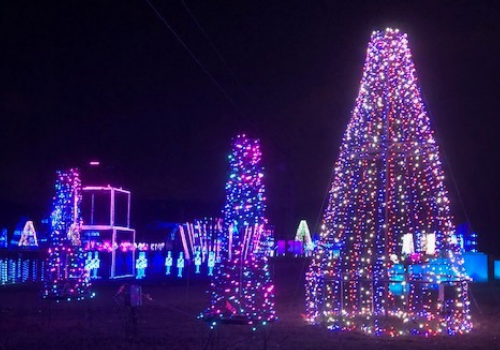 A magical drive-through display of over 1,000,000 holiday lights synchronized to festive music.
2020 Sever's Holiday Lights Dates/Times:
Open Daily November 26, 2020 - January 3, 2021.
Sunday-Thursday 5PM - 9PM
Friday-Saturday 5PM - 10PM.
$7 per person, $25 per car, $40 per 8+ vehicle.

WINTER LIGHTS AT THE MINNESOTA LANDSCAPE ARBORETUM
3675 Arboretum Drive, Chaska MN 55318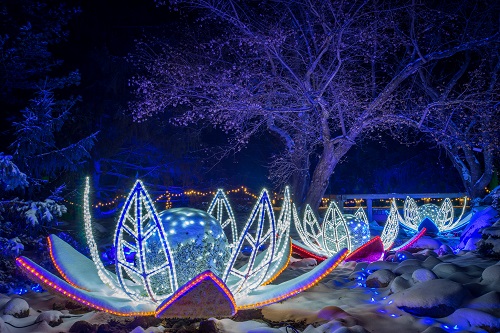 Winter Lights is currently closed while they work on a new and safe drive-through experience, planing to open December 1, 2020.

SPIRIT OF WINTER – FESTIVAL OF LIGHTS
9950 North Shore Rd Waconia, MN 55387
The Spirit of Winter is a 20-acre drive-thru light display throughout Sovereign Estate Winery.
2020 The Spirit of Winter, Dates/Times:
November 17, 2020 – January 2, 2021
Monday - Closed
Tuesday - Private Groups Only
Wednesday - Thursday 4:30–8 pm
Friday - Saturday 4:30–9 pm
Sunday 4:30–8 pm
Closed Thanksgiving, Christmas Eve, Christmas Day and New Year's Eve
Admission Price (age 5+): $7.50 per person, Children under 5 are free.

CHRISTMAS LIGHTS AT SUNRISE
15482 W Sunrise Circle Eden Prairie, MN 55347
Family Holiday Display with thousands of lights synced to Christmas Music.
2020 Christmas Lights at Sunrise Dates/Times:
November 26, 2020 - January 6, 2021
Nightly from 5:00 PM - 12:00 AM
Tune Radio to 87.9 FM
FREE to view
Weather permitting
Please don't block driveways and be respectful of neighbors.

Chanhassen Tour of Lights December 5 - 31, 2020 nightly from 5 - 8pm. Driving or walking tour of residential holiday light displays throughout Chanhassen, MN. A map will be available HERE after December 5, 2020.

SHAKOPEE WINTER WONDERLAND
921 Shakopee Ave East Shakopee, MN 55379
Shakopee Winter Wonderland is a walking path filled with Christmas lights and Holiday Displays.
2020 Shakopee Winter Wonderland Dates/Times:
December 1, 2020 - December 25, 2020
Nightly from 6:00 - 9:00 PM
Walking path only
Masks and social distancing is required
FREE to view
Designated entrance and exit

CANADIAN PACIFIC HOLIDAY TRAIN
VIRTUAL FOR 2020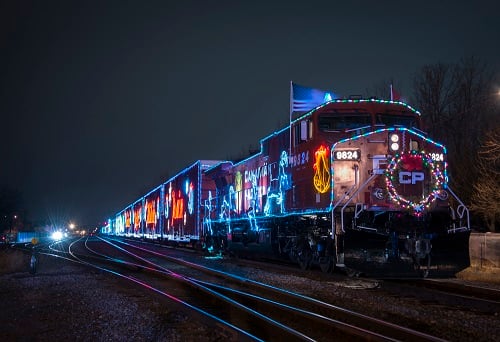 Photo credit: Canadian Pacific
Canadian Pacific Holiday Train will be virtual this year on Saturday, December 12, 2020 at 7 PM CST. View Facebook Page for Virtual Event.

MN HOLIDAY LIGHT ROAD TRIP
CELEBRATE THE LIGHT OF THE WORLD
Robbins Island Regional Park North Highway 71, Willmar MN 56201
Free Drive-Thru Display with over 800,000 Christmas Lights.
2020 Celebrate the Light of the World, Dates/Times:
November 26, 2020 to January 1, 2020
Nightly from 5:00pm until 10:00pm
FREE to view
Accepting donations to help those in need in the community

BENTLEYVILLE
700 Railroad St, Duluth, MN 55802
Bentleyville will be a Drive-Thru event for 2020.
November 21, 2020- December 27, 2020
Sunday - Thursday 5 - 9 pm
Friday - Saturday 5 - 10 pm
$10 per vehicle
Cash and all major credit cards are accepted at the gate.
Bentleyville is an official Salvation Army drop off site for non-perishable food items and new unwrapped toys.

KIWANIS HOLIDAY LIGHTS
CANCELED FOR 2020

When you come across a great display let us know. We would love to share it with Macaroni Kid readers!
Please note shows may cancel without notice, check links before making the drive if in question.
Get a FREE kid-friendly event calendar for Carver County, MN and the surrounding area full of festivals, fairs, activities, events and more! Sign up by clicking HERE!caroni Kid Carver is a free weekly newsletter and website focused on fun family events and information in Carver County, MN. We gather together all kinds of local family events and kid activities each week, and add useful information about classes, family-focused businesses, product reviews, recipes, crafts, school and camp guides and more. We proudly serve families in Carver, Chaska, Chanhassen, Waconia, Norwood-Young America, Victoria, Watertown, Mayer, New Germany and Hamburg, Minnesota.