Shop and enjoy locally grown fresh fruits and vegetables at Farmers Markets. Many have homemade jellys, sauces, salsa's and other delicious treats. You can also find handmade items, natural beauty products and so much more! Shopping at local farmers markets helps supports the community.
Stay updated on more local events by subscribing to our Free E-newsletter and following us on Facebook.
2021 FARMER MARKETS in MINNESOTA
TUESDAYS
Carver Farmers' Market
Community Park
6th St W, Carver, MN 55315
Tuesdays 3:00 PM - 6:00 PM
July 13, 2021 - September 28, 2021
WEDNESDAYS
Chaska Downtown Farmers Market
City Square Park
300 N Chestnut St, Chaska, MN 55318
Wednesdays 3:00 PM - 6:00 PM
June 16, 2021 - September 8, 2021
Bongards Farmers Market
St. John's United Church
12984 County Road 51 Norwood Young America, MN 55368
3:00 PM - 6:00 PM
Wednesdays - June 2, 2021 - September 29, 2021
THURSDAYS
Tangletown Gardens Farm Direct Store
Open year-round featuring products available directly from our farm - veggies, meats, eggs, and more. Create your own fresh selection of items, choosing from the entire bounty currently available at our farm. The weekly online Farm Direct Store is open for orders from Saturday through Tuesday. After your order has been placed, it will be available for pickup on Thursday, between 3-6pm. Pick up at Wise Acre Eatery in Minneapolis.

Victoria Farmers Market
ENKI Brewing Parking Lot
1495 Stieger Lake Lane, Victoria, Minnesota 55386
3:00 PM - 6:00 PM
Thursdays - July 1, 2021 - September 16, 2021
FRIDAYS
Downtown Shakopee's Farmers Market
Lewis Street Parking Lot
126 Lewis St N, Shakopee, MN 55379
2:00 PM - 6:00 PM
Fridays - June 4, 2021 - October 29, 2021
SATURDAYS
Chanhassen Farmers Market
City Center Park Plaza Parking Lot
7700 Market Blvd, Chanhassen, MN 55317
9:00 AM - 1:00 PM
Saturdays - June 5, 2021 - October 2, 2021
NYA MarketPlace
Behind CarQuest
309 N Faxon Rd N, NYA MN 55397
9:00 AM - 12:00 PM
September 11, 25 and October 9, 23
Buffalo Farmers Market
Across From Buffalo Cinema
100 1st Ave NE, Buffalo, MN 55313
8 AM -12:00 PM
Saturdays - May 1, 2021 - October 30, 2021
Know of others not on this list, send an email. Times and dates could change without notice.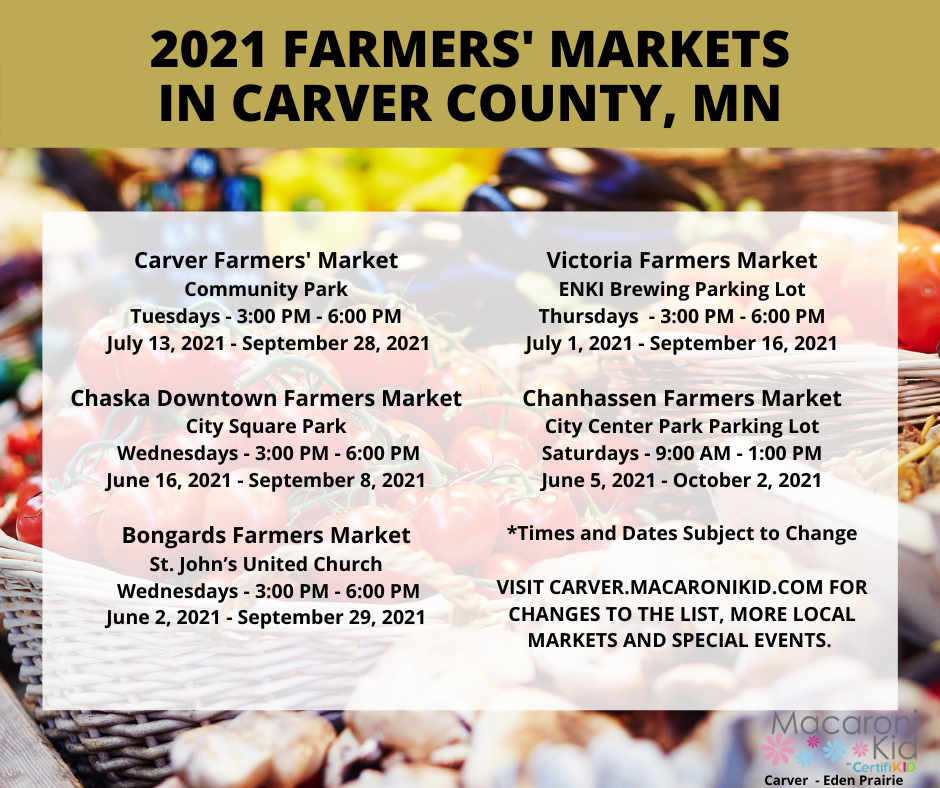 FIND MORE FARMER MARKETS IN MINNESOTA
Macaroni Kid Carver is a free weekly newsletter and website focused on fun family events and information in Carver County, MN. We gather together all kinds of local family events and kid activities each week, and add useful information about classes, family-focused businesses, product reviews, recipes, crafts, holiday, school and camp guides and more. We proudly serve families in Carver, Chaska, Chanhassen, Waconia, Norwood-Young America, Victoria, Watertown, Mayer, New Germany and Hamburg, Minnesota. Sign up to receive our Free newsletter.