2021 Local City Celebrations, Festivals and Fairs in the Carver County and Eden Prairie, MN area. Most of the City Celebrations are Free admission. The Fairs and Featured Events do have a fee. Click pink links for more information about each event. Many more events this Summer. Sign up for our FREE weekly e-newsletter to receive event information all year long.
Want to share this article? Just click on pink icons above image to easily share with friends.
2021 FEATURED SUMMER EVENTS
July 20 - Taste of NYA
2021 CITY CELEBRATIONS
June 26 - Big Rib Jig - Hamburg
July 2-4 - 4th of July Celebration - Chanhassen
July 2-4 - 4th of July Hometown Celebration - Eden Prairie
July 10 - Rising Community Festival - Mayer
July 22-25 - Glad Days - Cologne
July 23-25 - River City Days - Chaska
July 30-31 - Rails to Trails - Watertown
July 30-August 1 - Fire Dept Softball Tournament - New Germany
August 27-29 - Stiftungsfest - Norwood Young America
September 10-12 - Steamboat Days - Carver
September 10-11 - Heimatfest - Jordan
September 18 - Nickle Dickle Day - Waconia
October 15-16 - Fire and Ice Celebration - Chaska
2021 FAIRS
July 28 - August 1 - Scott County Fair in Jordan

August 11 - August 15 - Carver County Fair - Waconia

August 21 - October 3 - MN Renaissance Festival - Shakopee

August 26 - September 6 - Minnesota State Fair - St. Paul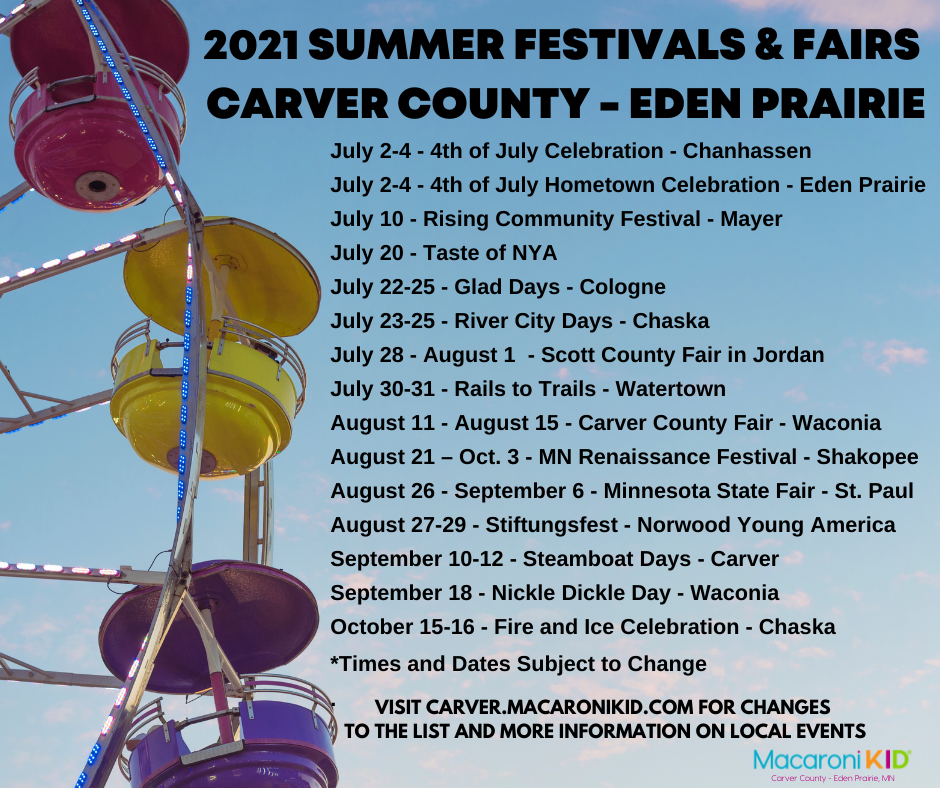 Events may change without notice, will update as information is available. Event not listed? You can submit here or send me an email.
Macaroni Kid Carver is a free weekly newsletter and website focused on fun family events and information in Carver County, MN. We gather together all kinds of local family events and kid activities each week, and add useful information about classes, family-focused businesses, product reviews, recipes, crafts, school and camp guides and more. We proudly serve families in Carver, Eden Prairie, Chaska, Chanhassen, Waconia, Norwood-Young America, Victoria, Watertown, Mayer, New Germany and Hamburg, Minnesota.
Find more local family-friendly events on our event calendar or check out our other summer event guides. Stay in the know all year with our free e-newsletter. SIGN UP TODAY!