You may need extra help this season or you might have something to give. This guide includes ways to receive or donate to local toy drives, angel trees, community meals, food shelf donations and more in 2021.
Special thanks to all the volunteers and businesses that make our season brighter.
Stay updated on local family-friendly events with our FREE newsletter. SIGN UP HERE
TOY DRIVES AND DONATIONS
Waconia Toy Drive will be collecting toys at local businesses until Sunday, Nov. 28, 2021. All gift donations for children ages infant through 18 years must be new and unwrapped. Gifting day is Friday, December 3rd from 9am- 6:30am.
Donations may be dropped off at Waconia businesses during regular hours at;
American Family Insurance Agency
Children of Tomorrow
Elite Nutrition
Everson's Hardware Hank
Freshwater Church
Hometown Bank
Laketown Gymnastics
Mackenthun's Fine Foods
Mainstream Boutique
Mainstreet Exchange
MidCountry Bank
Modern Design in Cologne
Movewell Chiropractic
Mystic Fortress Games
Neubauer Chiropractic Health Center
Old National Bank (Waconia & St. Boni)
Regarding Dentistry
Safari Island
Snap Fitness
Soothe Your Soul Massage
Trending Upward
Waconia Brewing Company
Waconia City Hall
Waconis Dodge Jeep Ram
Waconia Ice Arena

VFW in Chaska will be collecting Toys for Tots. Donations are needed for all ages 0-18. Donations can be made at local businesses during regular hours. Donations are needed before December 11, 2021.
Distribution will take place December 17-19, 2021. Sign up and times coming soon.
There is an extra need for teen gifts, a few ideas are earbuds, bath sets, movies, board games, makeup, arts and crafts.
Cuzzy's Brick House
Heartbreakers
Little Roos
Schram Haus Brewery ($1 off a beer w/ toy)
Nothing But Hemp
Cy's Bar & Grill
Dolce Vita
Chaska Curling Center / Crooked Pint
Chaska Community Center
Upgrade Nutrition
Carver Liquor
The RAK
Cooper's Foods
Chaska Laundry Center
Farmers Insurance Greg Cummins Agency
Chaska Place Apartments
Step by Step Montessori School
Old National Bank
Charter Bank
Fitness First
Chasers
VFW in Chaska is located at 620 Creek Road Chaska, MN 55318 Follow Chaska Santa on Facebook for more updates.
Parkside Church is working with Love INC for those in need this holiday season. If you are in need of help this Christmas, you can contact Love INC at (952) 448-3261 to register for participation in this event. Pre-Register by Thursday, December 2nd.
The Joy Jam will take place on December 19, 2021. Volunteers are also needed to help organize, wrap and deliver gifts. Learn more about sign up on their website.
COMMUNITY MEALS AND FOOD PACKING
St. John's Lutheran Church Esperanza - CAP, Carver County Public Health. and Chaska Police Department offers a Free Food Distribution for everyone once a month on Thursday. Food is packaged for drive-thru pickup. Oct. 21, Nov. 18, Dec. 16, 2021 and Jan. 20, Feb. 17 and March 17, 2022. Pick up from 12-1:30 PM.
Food Distribution are volunteer-run and always looking for more help. Sign up HERE.
Pick up location is 2100 Stoughton Ave Chaska MN 55318
Feed My Starving Children in Chanhassen, MN needs volunteers to hand-pack meals that are sent to children around the world. New safety measures are in place and a reservation is required to pack. No walk-ins can be accepted. The minimum volunteer age is currently 5.
1.75 hour sessions are open Monday - Saturday starting at 9AM and ending at 8:45PM.
Feed My Starving Children is located at 18732 Lake Drive East Chanhassen, MN 55317
Website (952) 937-2329 Chanhasseninfo@fmsc.org



ANGEL TREES AND DIRECT DONATIONS
Off The Top Hairstyling in Waconia has an angel tree and if you are in need of gifts you can pick up or Download the FORM and return by December 1, 2021. It can be dropped off or mailed to Off The Top Hairstyling or Email shawnaoffthetop@gmail.com to be added to the tree.
If you would like to help after December 2, 2021 you can stop in Off The Top Hairstyling and pick an angel and purchase a gift for that person. Regular hours are Monday - Thursday 9:00 AM - 8:00 PM, Friday 9:00 AM - 6:00 PM, Saturday 8:00 AM - 3:00 PM and Closed on Sundays.


Off The Top Hairstyling is located at 9364 Oak Ave, Suite A, Waconia, MN 55387. Website (952) 442-1777
Spreading Cheer MN is a program where you can give gifts for the entire family in need. Applications are closed for those receiving, but if you would like to help a family in Minnesota you can visit the facebook page to adopt a family in need.
COAT AND WINTER GEAR COLLECTION
Love Inc. will be collecting warm outerwear for kids & adults in District 112 - Eastern Carver County. Items needed are New and Gently Used; Coats, Snowpants, Boots, Scarves, Hats and Mittens. Items can be dropped of at Furnishare in Chanhassen, Discover United Methodist and any participating Love Inc. Church unitl November 20, 2021.
St. Joesph School in Waconia is collecting Coats in sizes Youth XS to Adult Large. November 1 - December 3, 2021.
Drop off locations;
St. Joesphs School
Waconia Schools
City Hall
Laketown Home and Garden
Safari Island
Snap Fitness
Southpoint Financial
Waconia 1 Collision
Any youth in need of a coat there will be a pick up on December 10, 2021 from 7-9pm and December 11, 2021 from 8-10am. St. Joseph Catholic Community 41 East First Street Waconia, MN 55387
FOOD SHELF DONATION
Bountiful Basket is a Food Shelf helping families in Carver, Chanhassen, Chaska, & Victoria.
If you are in need you can call (952) 556-0244 to schedule an appointment.
Food can be donated during open hours.
Monday – 9 a.m. – 6:30 p.m
Tuesday – 9 a.m. – 3:30 p.m.
Wednesday – 9 a.m. – 3:30 p.m.
Thursday – Closed
Friday – 9 a.m. – 3:30 p.m.
First and Third Saturday of each month 9 a.m. – Noon
There are many ways to volunteer, food pick up, client assistance, front desk and food warehouse. Visit website for more information and available opportunities.

Bountiful Basket is located at 1600 Bavaria Road, Chaska, MN 55318 (952) 556-0244
Waconia United Food Shelf, serving residents in Waconia, Victoria, New Germany, St. Bonifacius, and Cologne, MN.
If you are in need of assistance, you can register and shop on the same day.
Hours are Monday, Saturday: 9:00am–11:45am and Tuesday, Thursday: 4:00pm–6:45pm. Closed on Holidays. Masks are required, 30 minute shopping limit, no kids under 16.
Donations are always needed as well as volunteers. Visit website for current needs.
Waconia United Food Shelf is located at 11 South Elm Street, Waconia, MN 55387 (952) 442-3878
Friends For Life Food Shelf in Watertown, MN.
Donations can be dropped off Monday evenings from 6 to 8 pm, Tuesday and Friday mornings from 9 am to noon.
To receive food, please reserve a time slot by phone or use the order online form.

Friends For Life Food Shelf is located at 309 Lewis Avenue South, Watertown, MN 55388 (952) 955-1980


Southwest Carver County Food Shelf in Norwood Young America, MN.
Hours are Tuesdays- 12:30-6:15 pm and First Saturday of the month- 10:00 am-12:00 pm.
Southwest Carver County Food Shelf is located at 10 First Avenue NE, Norwood Young America (952) 467-1870



PROP (People Reaching Out to People) Offers food programs to Eden Prairie and Chanhassen residents.
Hours are Monday, Tuesday, Thursday, & Friday, 9:30-1:00pm and Wednesday, 3pm-6:30pm.

PROP is located at 14700 Martin Drive Eden Prairie, MN 55344 (952) 937-9120
We are still working on this list and if you know of a great place to donate please send an email to Jamies@macaronikid.com.
2021 Ultimate Holiday and Christmas Guide for Carver County and Eden Prairie, Minnesota. Find Christmas Events, Santa, Tree Lighting Events, Holiday Light Shows, Local Gifts, Free Holiday Events, Shows & Plays, Donation Spots, Christmas Tree Lots, Holiday Printables, Recipes, Crafts and More.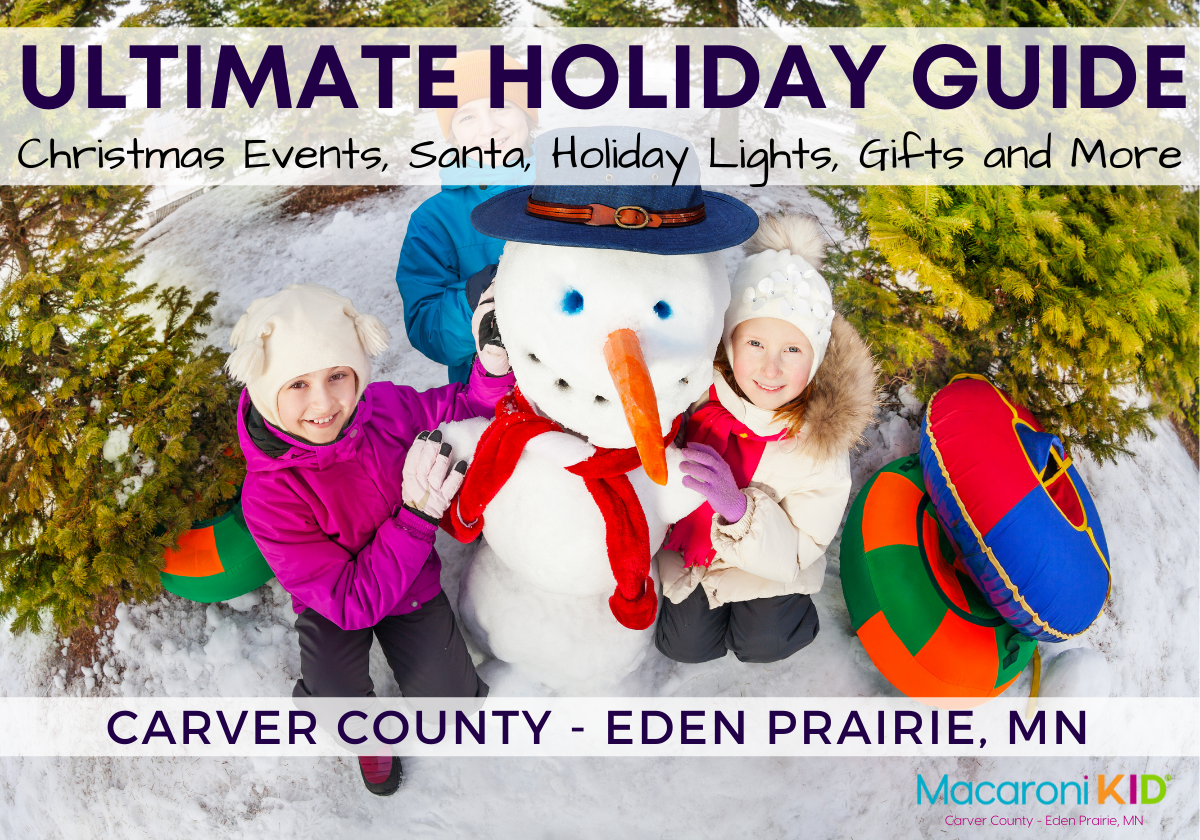 Get a FREE kid-friendly event calendar for Carver County and Eden Prairie, MN and the surrounding area full of festivals, fairs, activities, events and more! Sign up by clicking HERE! Macaroni KID Carver is a free weekly newsletter and website focused on fun family events and information in Carver County and Eden Prairie, MN. We gather together all kinds of local family events and kid activities each week, and add useful information about classes, family-focused businesses, product reviews, recipes, crafts, school and camp guides and more. We proudly serve families in Eden Prairie, Carver, Chaska, Chanhassen, Waconia, Norwood-Young America, Victoria, Watertown, Mayer, New Germany and Hamburg, Minnesota.